FAQs
How many products come in a box?

Every box comes with 4 FireSafe Outlets.
Does the product come with batteries?

Yes. Each package of FireSafe Outlets comes with 4 9volt alkaline batteries.
If I install FireSafe Outlets on one outlet in a room, will it protect all my other outlets in that room?

No. FireSafe Outlets only monitors the outlet that it is installed onto. We recommend installing FireSafe Outlets on all compatible outlets in your home to protect your whole house.
Do I need an electrician to install the product?

No. Any adult can install the product. If you are having installation issues or don't feel comfortable installing the product, then we recommend getting a licensed professional to install the product. Please feel free to contact us at support@firesafeoutlets.com for more information.
Will FireSafe Outlets work on all outlet types?

FireSafe Outlets will not currently work on all outlet types. FireSafe Outlets are only compatible with standard 15amp and 20amp receptacles. Please see theOwner's Manualfor more information about compatible outlet types.
How loud is the alarm when activated by heat?

The alarm sounds just like a smoke detector or carbon monoxide detector when activated. Alarm will repeat cycle of beeping for one second, pause, beep for one second at sound frequency of 85db from a distance of 3 meters.
What should I do if the alarm sounds?

Evacuate the structure immediately and call the fire department. Alarm activation is caused by excessive heat build-up at your receptacle. This can be due to many different factors that can result in a fire.
Why does the alarm beep every 45 seconds and the LED light blink red?

The beeping and red, blinking LED light indicate that the device has entered "low battery mode." You should replace the battery immediately with a 9volt Alkaline battery.
When should I change the batteries?

FireSafe Outlets recommend changing your batteries every 6 months, or when the low battery alarm is sounding, whichever comes first.
Do I have to pay for shipping?

FiresSafe Outlets offers FREE standard shipping anywhere in the U.S! Shipping charges apply for purchases outside of the U.S. Firesafe Outlets typically ships items in 1-2 business days. You will receive tracking information via email when your item ships. Ground shipping usually takes 3-7 business days to arrive at your location in the U.S. Shipping to Canada may take longer.
Do you have a return policy?

Yes. Please click here to view our return policy. FireSafeOutlets works hard to ensure the quality and integrity of each product. However, if you are unsatisfied with your product, you have up to 14 days from your shipment date to return or exchange items purchased at firesafeoutlets.com. Products purchased online must be returned through our website. To be eligible for a full refund, the product(s) must be returned undamaged and with all original packaging, including the installation manual and four 9 volt alkaline batteries. To request a return please email us at: sale@firesafeoutlets.com.

Please note: Refunds will be issued based on the original form of payment. Please allow up to 30 business days for your return to be processed once it arrives at our facility. You will receive an email once your return has been processed and we have issued your refund.
Do you have a product warranty?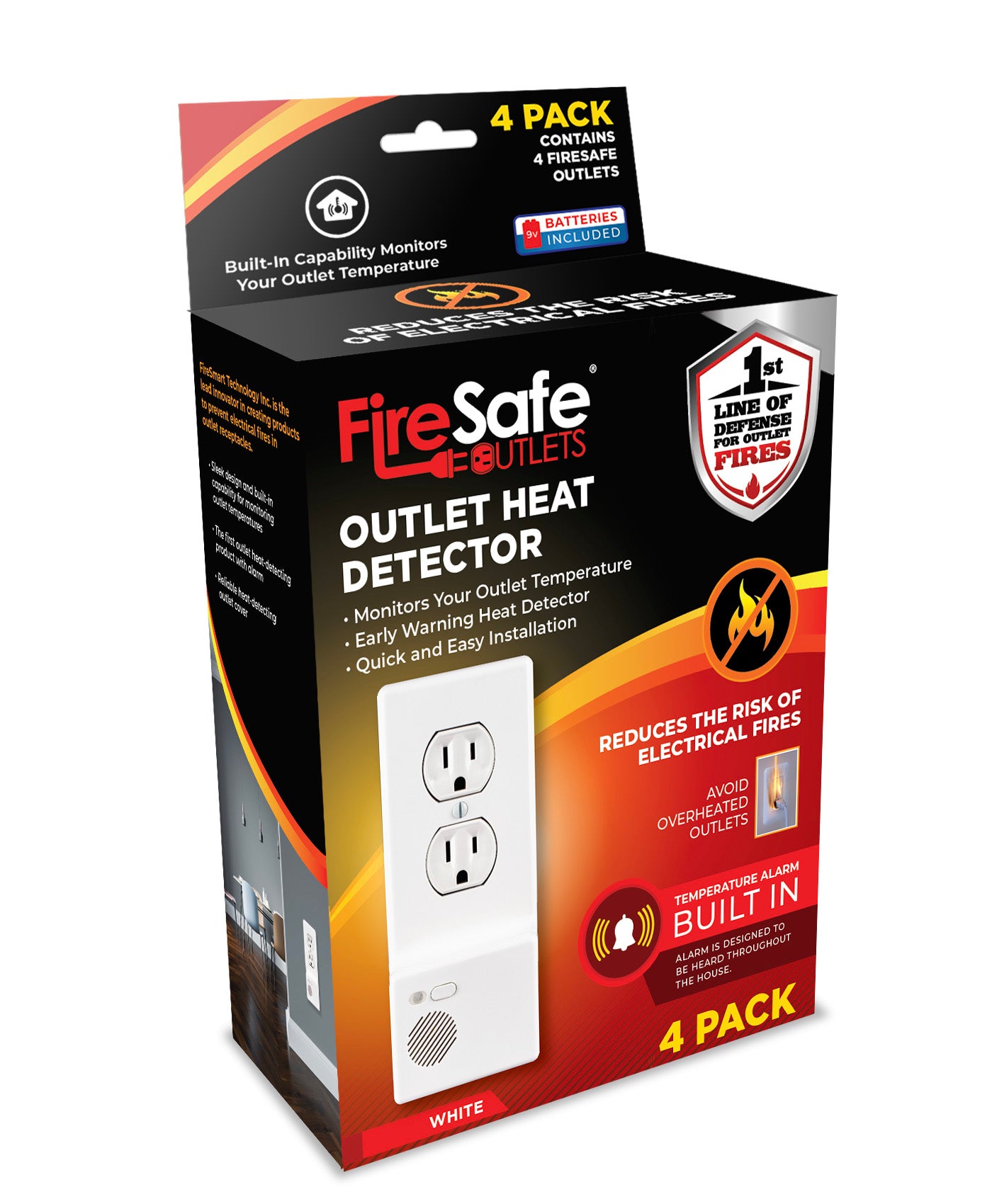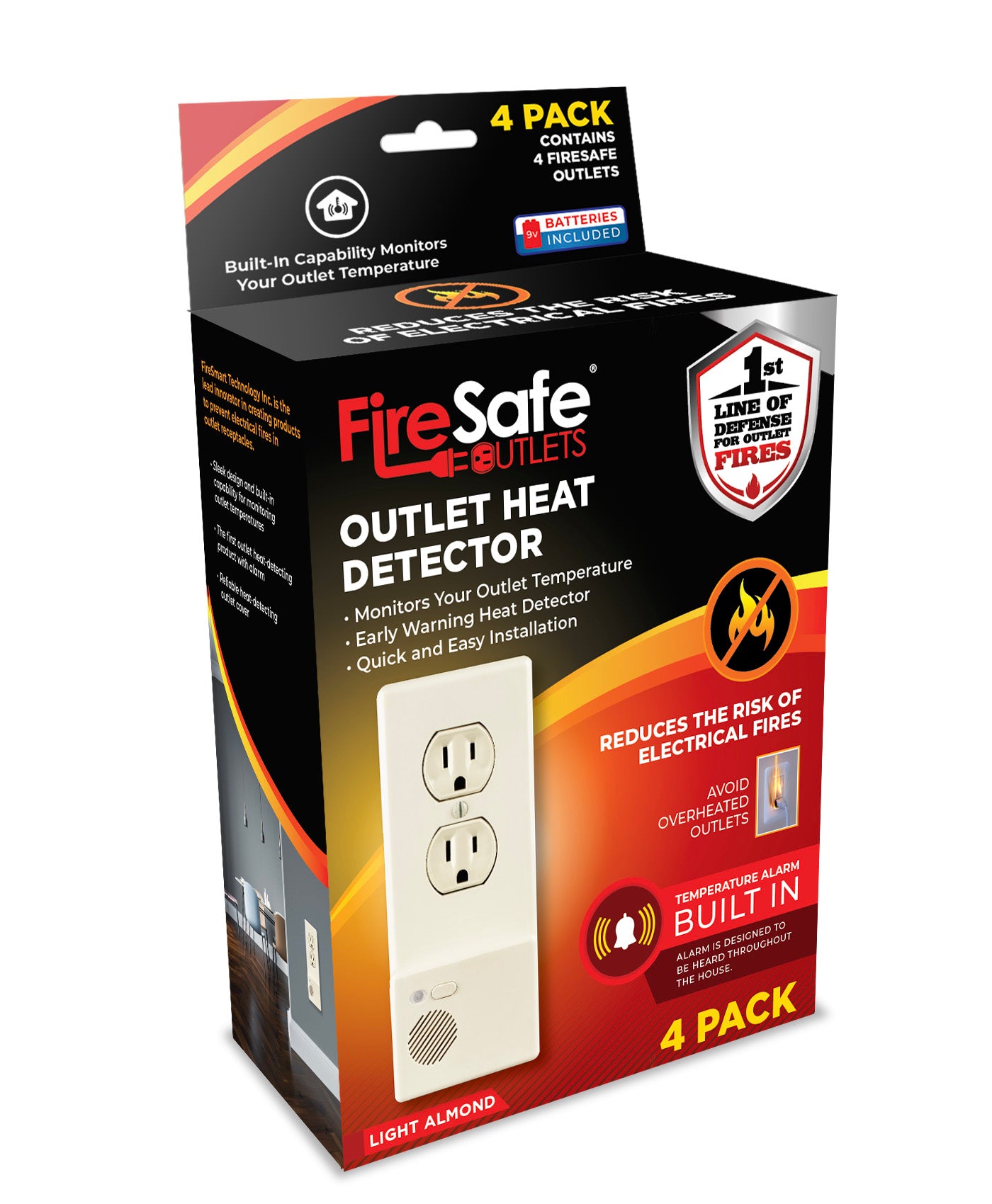 FireSafe Outlets - 4 Pack
Regular price
$69.99 USD
Sale price
$59.99 USD
Unit price
per
Sale
Sold out
Share
View full details